Info
How Things Are contains a beautiful and honest collection of songs, straight from the heart. Never afraid to write about a difficult situation, How Things Are came about after Andy's 19 year long marriage ended, in order to answer the question "How are things?" Whilst detailing his heartbreak in his writing, Andy's optimistic and appreciative outlook on life has managed to create an empowering and uplifting album, full of promise.
Recorded in his studio The Growlery, with son Sebastian on drums and a one-woman string section, the style ranges from full-on rock to impressionistic acoustic, all shot through with Andy's trademark wit, and what one critic called his "sheer soul".
"Writing these songs was my way of coping. All of the songs are intense, but it's not all a sad story. Love at first sight? Yes, that Romeo and Juliet moment does exist. I know how lucky I am that it happened. Even just once is amazing."
"How Things Are is a celebration of, as well as a valediction to, a time that's gone. The songs are more 'Street Scenes From My Heart'. As well as the end of something, this is a first chapter."

A message from Andy:
Our story starts in a hire car on a far-off freeway, skidding round a bend as it hits a patch of red dirt. An amp, an acoustic guitar and a drumkit career from side to side in the back of the wagon as Andy cranks the stereo. It's sometime after the end of the last album Songwriter, and it's still to be seen whether our driver has learned the lessons contained in his book 21st Century Troubadour.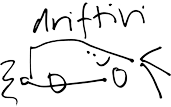 Meanwhile, deep in the outback, a space shuttle blasts off to the sound of a funky sitar and a drunken Shakespearian actor reciting lines from The Tempest. U2′s on the stereo, playing the theme from Batman. The orchestra sweeps across distorted guitars leaving a mangled wah-wah pedal in its wake. The back wheels are out of control now, sliding across the centre line. Driftin'.
I made it back to the city I'm now calling home, Melbourne. Where your tyres get caught in tramlines and lead you towards basement rooms you thought you'd never revisit. I wrote this one evening, a big moon hanging low over Separation Street, Brunswick. I tried to stop the car to take a photo, but I couldn't capture the scene or the feeling – so I wrote this song and recorded it later that night.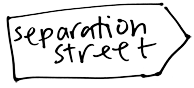 The outro, as soon as the strings kick in, reminds me of the Belfast I grew up in. Captured in a car seat, listening to Van Morrison songs. Marijuana smoke wafting out of terrace house windows in the sidestreets off Botanic Avenue. That's where I went to Neil Shawcross' painting class with my sisters. His philosophy was – only encourage, and use as much paint as you want to use. The models were Neil's friends – artists, musicians and actors. My world from then on. Separation Street.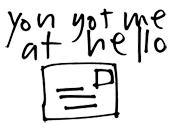 You Got Me At Hello goes right back to the start. Memory plays tricks on me – I tend to only remember the good times until things fall apart. I wrote this album in my studio, high on a hill. It's called The Growlery (DIckens fans, take note). I'd just broken up with my wife of 19 years. She walked, and I'd lost my best friend, lover and companion. Other friends disappeared in a cloud of smoke, invisible as the ghosts of the good times. Writing these songs was my way of coping. All of the songs are intense, but it's not all a sad story. Love at first sight? Yes, that Romeo and Juliet moment does exist. I know how lucky I am that it happened. Even just once is amazing.
I swore I'd never have a ukulele on a record and there's an amazing amount of uke on this one. Harmonium and flutes too. A glockenspiel! Sebastian says this one is like a demo of Songbird by Oasis, but then he would, wouldn't he? It was an amazing process, playing with my son on an album for the first time. Huge kicks for both of us, teenage and otherwise.
Growing up in Belfast I always wanted to make something beautiful out of the everyday violence which surrounded me. I was sheltered from the chaos by a loving family and having such an artistic home environment. Mum especially showed me that the world of the imagination can take you wherever you wanted, as well as places you never guessed you could go. I'd escape into a world of books and music, which led directly to my first record release, Religious Persuasion.

Similarly, in my personal universe, Band Of Gold is reaching out for beauty amongst the pain of a major break-up. For each one of us, our story of love is the greatest ever told. Let's celebrate it, even after its demise.
And – above all – let's dig the bass sound right after the first drum fill.
Escape is a glorious thing, or so Jessica Says. A legendary record producer once told me that rock'n'roll music should be made to play in the car at the start of an evening out. You're full of anticipation, looking for a good time – on a date, with friends – and you're blasting the stereo. That's how this particular evening felt.
Although the two couples involved aren't or weren't together at the time, for me there's such a buzz involved in picking up a hire car on a summer night, buying cigs and booze, driving around on the edge of a beautiful island (Vancouver, in this case) and checking into a hotel to spend the wee hours playing music and drinking on a balcony.
There's a passage in a recent Martin Amis novel describes how when you're on your deathbed, looking back over your life, you won't think of how much money you made or how successful your career's been. It'll mostly be down to who you've kissed.
Sebastian and Hans-Jürg (who mastered the album) saved this one from tubular bells, and Simon (who mixed) discovered the waves of guitars on a secret track. We can be heroes, just for one day.
Early in 2011, Tim Finn arrived in Melbourne. We caught up over coffee and drum kits, in town and at home. Instantly sympathetic, Tim is someone who understands the value of sentiment and sentimentality. That the ability to hold something precious in the palm of your hand is a wonderful thing. I tried describe the new-found situation I was in, and he immediately came back to me with the first two lines of this song.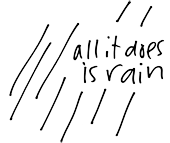 If you're reading this outside Australia, you should understand that when it's hot, it's hot – and when All It Does Is Rain, it never seems like it will stop.
Recording the album over the winter of 2013, Sebastian would come up to the studio every weekend, and we'd concentrate on one song at a time. As I've said, a beautiful bonding exercise – the grooviest ever. I love his reading of this song. To wait this long before coming in is quite something for a 19 year old. To complete the circle, he told me his drum pattern (and the use of the shaker) is based on Tim's great sticks work.
After he escapes for the first time, our hero longs for more. The thrill of being out on his own, in the middle of a world of emotions, Darwinian complications and triangles drawn from a French film, attracts him. Every time he crashes and burns, he comes back for more. In the process, he comes to realise that the caste system of romantic arrangements rivals that of the hierarchy of rock'n'roll for complexity and irrationality.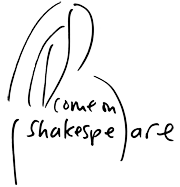 It's obvious there's only one man to turn to – the guy who understands it all. Shakespeare Take My Hand.
Written in Toronto after an epiphany on a balcony, a lipstick kiss appeared on the other side of a misted-up window and then was gone. It was on the fourteenth floor, the sun slowly sinking into the snow. I can't wait to play it in Verona.
At this stage I should introduce the only other musician on the album apart from Sebastian. Domini Forster took my string arrangements and made musical and dramatic sense of them. She climbed the hill one Friday morning and rearranged my ideas with technique and feeling. During the outro of Separation Street there's one phrase repeatedly brought a tear to my eye when the mixes were first finished. At 2'57″ in this song, another of her effortlessly beautiful violin phrases makes me thank God there's a woman playing on the album.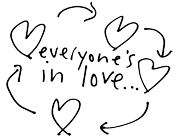 Everyone's In Love. The delays and echoes in this song are all there for a purpose. A press roll on the snare starts up a machine which won't stop till the last heartbeat fades to black. A lot of the action of these songs takes place on a sofa – and not all of it as cosy as that sounds. This was written on one, sinking softly but surely into its cushions as the clock ticked and a faraway voice on the radio sang "I want you to stay". Listen carefully and you'll hear it.
Once I found the C9 chord and the sequence, this song wrote itself. I like the extra middle 8. Repeating that most important of structural devices (and I don't mean that in an artificial sense) doesn't happen often, but in this case the fact that "Something keeps you strong" was important enough to be insistent about.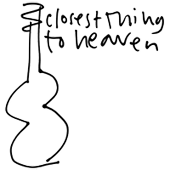 I'm not sure how you're listening to the album, but Closest Thing and the track immediately following it, Thankyou, should run together without a gap separating them.
You'll understand these tracks immediately, so I'll only say that I have spent the past couple of years imploring artists I've produced to tear their chests open and tell us what happened, and what's in their heart. Sharing feelings and thoughts, with as much honesty and passion as possible, is where it's at. I've never been much good at making it up – there's so much to write about as it is. Sometimes I think the universal songs have been written – and it's good for the individual to take centre stage. If the listener doesn't like it, get it, or gain some kind of enlightenment from it, he or she can move on.
I'm guessing that since you've reached this deep into the album, it's making some kind of sense for you.
Thankyou is Sebastian's favourite track, so I'm going to dedicate this one to him. The noises are not only screams but thankyous, backwards. There are birds, because there were birds all the way through (and always will be). You Got Me At Hello metamorphoses – the way it did in a Chinese whisper a while ago – into You Got Me Out Of Love. There is a rain stick (the ALT rain stick), someone knocks the door asking for it to be turned up, and there is – always – four on the floor.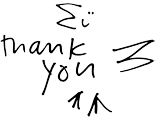 Then, a pause.
Thank you.
I grew up playing double bass. Well, I tried learning the piano – taught by my grandmother – and then the violin, but it was the double bass which really captured my heart and fingers. Then came many years of a Fender Precision. I don't know why it's taken me so long to get a Paul McCartney Hofner bass, but I've finally got one and it's on a lot of this album.
Where was I? Oh yes – despite playing electric bass for years, and then being diverted by a world of acoustic guitars, I knew something important was missing when I moved to Australia without my double bass. I'd originally bought it in London, it's still got the British Midland tag on the soft case, from when I checked it into the cargo hold on the Heathrow tarmac all those years ago.
After a series of pleading phone calls to Belfast, Mum sent it to Australia in an enormous cardboard box. It arrived in a fanfare of bubblewrap and polystyrene shapes, having travelled by boat through the Red Sea, past Middle Eastern wars and across the Indian Ocean.
After all that I couldn't help but start playing it again. For the first time in years. It's a fundamental thing for me. Bit by bit, I'm taking it song by song by blistered fingertip.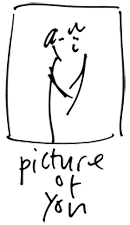 Picture Of You was written in a moment of pure desolation. When you're supposed to be doing something else, or trying to get your mind off whatever it is, sometimes the only thing you can do is write a song about it. Works in a different kind of way. As I say, making something beautiful about something causing you pain is what I've always tried to do.
More sofas and paintings. The album could have stopped before this song, but a young friend of mine heard it at the mix and made me promise to keep it on the album. He said it really meant something to him.
There's a line in it I can't get out of my head. "I was thinking …"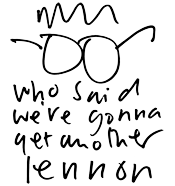 (Who Said We're Gonna Get Another) Lennon
"War is bad and love is blind".
Respect to Ringo, David and Marc too. Fandom is a great way to be.
See you on the other side,


Melbourne, Dec-Jan, 2013-14