Info
WOMAD live performance album, incorporating both songs and readings from 'The Music of What Happens', recorded in Real World Studios. Features Davy Crichton on violin and the Celtic Ono Band.
Tracklisting
Welcome
Speechless
Belfast Poems
Religious Persuasion
Last Day Of Summer
Groovy Kind Of Way
A Million Miles Away
James Joyce's Grave
Between A Man And A Woman
Travelling Circus
Jacqui
Home
Street Scenes From My Heart
You And Your Blue Skies
Acoustic Guitar
See-Through Smoker
The Last Fantastic Book
The Sound Of No Helicopters
Don't Be Afraid
Yeah Yeah
March 6 2000 saw the release of a new Andy White album entitled 'Speechless' on the WOMAD Select record label through Real World Records.
A live studio recording made in Real World Studios between Andy's performances at WOMAD festivals at Reading in England and Seattle USA, the album mixes both musical and spoken word performances.
As well as solo songs and poems by Andy, the album features the talents of:
David Crichton, Ayrshire born violin player, top-right in the photo below, has played regularly with Andy over the past five years and performed with him at WOMAD festivals in Singapore, Reading, Seattle, Gran Canaria and Cáceres.
Kieran Kennedy, electric guitar player, producer, bottom-left in the photo below, has been accompanying Andy on his travels throughout Europe during the past year and most recently working on Andy's new studio album.
Bronagh Gallagher, Derry-born artist whom you may have seen singing in Alan Parker's film 'The Commitments', driving a taxi in 'Divorcing Jack' or most recently appearing in Theatre de Complicité's UK tour. This is her first starring role on drums and vocals.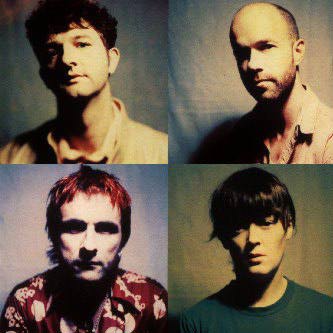 The band – dubbed 'The Celtic Ono Band' by legendary U.S. producer Kim Fowley – toured the UK to support release of the album in March 2000, with a Dublin gig scheduled in mid-April finishing up at WOMAD Palermo in August.